Well....... How do I put it all into one summary?
I didn't have that much fun on the spot, I think I was too tired/overwhelmed. But when I think back on it and when I tell my friends about it it sounds like I had one hell of a blast. There were moments of R O F L O L but there were also times of sitting around and 'what should we do next' And quite honestly I've been thinking a lot 'why am I doing this again?' I just don't think I was was in the mood for cons for some reason.
That being said- Otakon is easily the best con I've ever been to. I was with Anna all weekend and although you can be a pain to wake up you were great company to have, I enjoyed being with you, and we had a lot of shits and giggles together- I think that counts for more than I give it credit.
THURSDAY
-Went to the bank to take out money on my own FOR THE FIRST TIME EVER. hahaha
-Helped Allan et Oliver carry their giant obnoxious weapon
-Went to Penn Station to take the Megabus *_*
I had so much fun in the megabus- the view was fantastic and the ride was very pleasent.
We were talking NONSTOP the ENTIRE ride there. I wonder if we got on peoples nerves. This bus was great and really comfortable <333
We also passed by the officially dubbed epic sky
-Got there and waited for Mama Griffiths. She came in a BEETLE :333
Which ended up being too small so we waited for Papa Griffiths to being a pick up truck~
-Got at their house and fell in love with the car that ran on Vegetable Oil~ Soon renamed Veggy Mobile! (it smelled like Chinese food when we rode in it)
-Unpacked and headed to Otakon for our tickets~
-Sang on the way there~
-Got inside JUST in time, doors were closed soon after us.
-Got back (walked back to the house in pitch black darkness- I felt right at home. *_* )
FRIDAY
-LIGHT RAIL!!!! <3
Anna in her Ema outfit <3
-Blurr
-Made it to the con
-Met up with the coolest guy on earth- his name was Sohkum, and his girlfriend was named Alexis- and they were our tour guides :3
-Had a photoshoot with Hetalia people~ Dis is my favorite two pictures~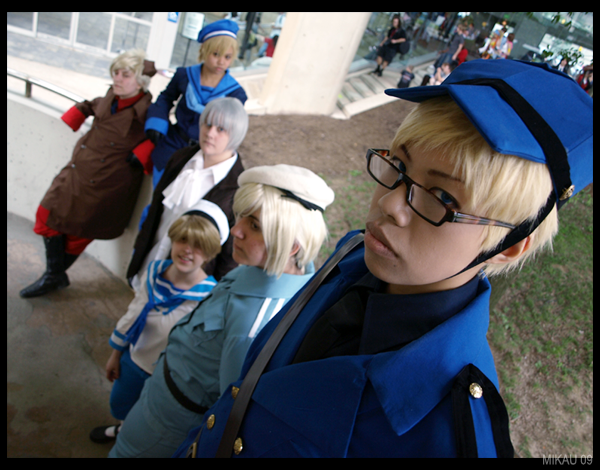 Also went on an adventure on a very sleep wall- Oh hey so this is what I wore for Otakon~
I fucking love how my Majoras Mask came out~ <3
So...... I dunno what happened next. But after a while I went to change into Mai and went to the Avatar meetup :333 I made- a crazy Azula that was really pretty~ And a Sokka that looked like Zac Efron~ AND A MAN TOPH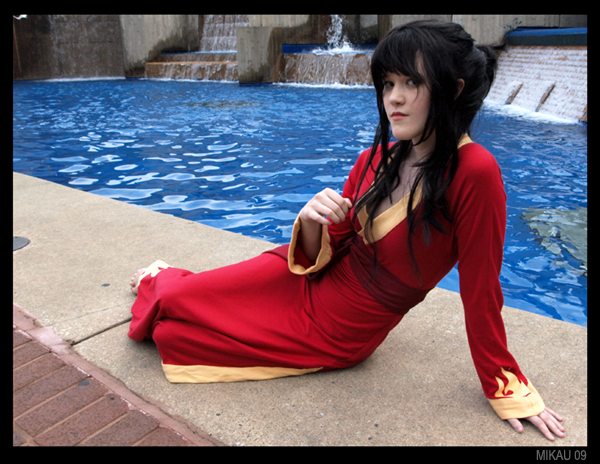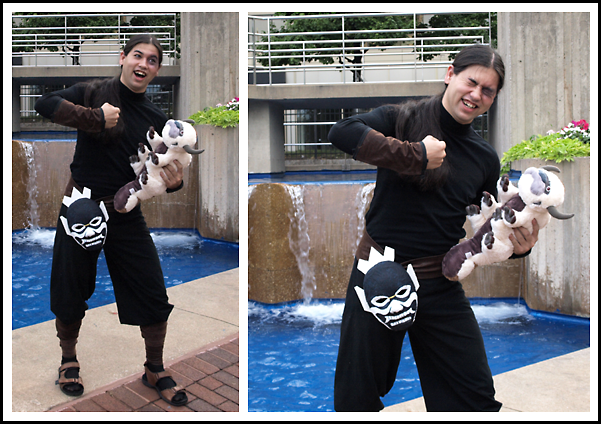 AND I RAN INTO A ZUKO AND A RUFIO!!! How cool is that? *_*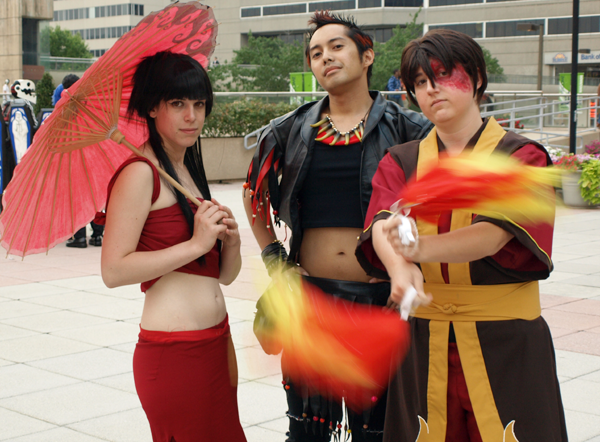 From there we saw FUCKING AMAZING PERSONA COSPLAYERS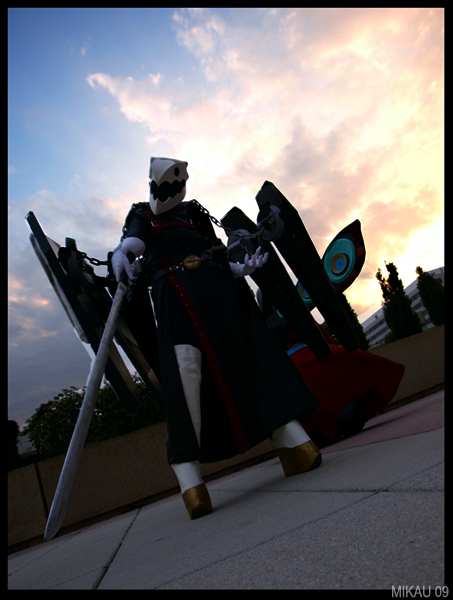 -Met up with Sohkum again. Chilled. Chilled some more
-Went home
SATURDAY
-Got up and out kinda late
-Got there kinda late
-Uhh
Yeah well at the brawl shoot- we were really loud and obnoxious- and the Gurren Laggan shoot was right next to us- and we went face to face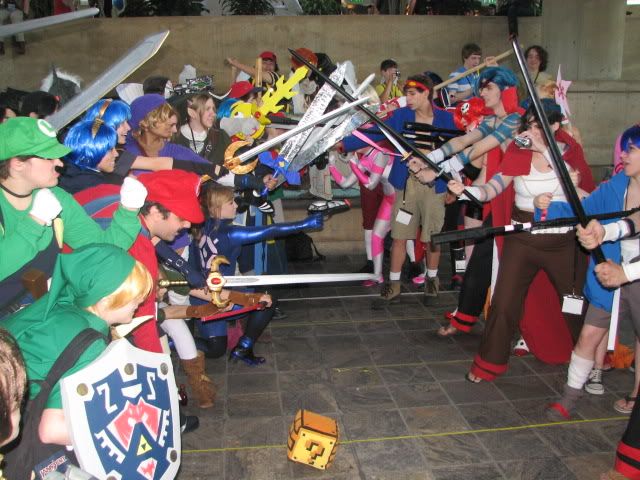 It was really hillarious- and I went off to shoot people around a bit-
....Oh btw:
kimmy_16
were you part of this Gurren Laggan shoot? I tried looking for you but then I realized I cannot recognize you.. and I didn't know who you were cosplaying.. ;;
There were two Kefka's that were checking each other out and laughing at each other- they were so cute. *_*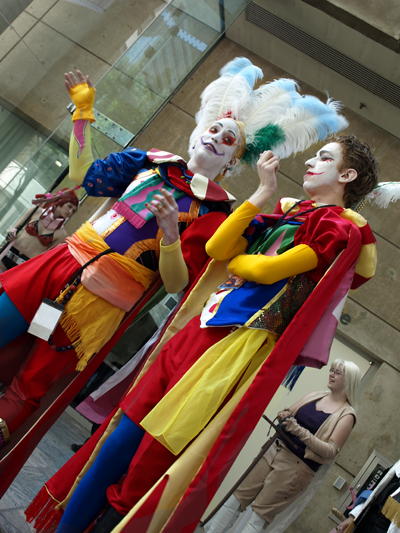 And then there was the LoZ shoot- there were so many pretty cosplayers. *____*
This one Link cosplayer really loved my masks- so I let her use them~
COOL SHEIK AND AMAZING ZELDA *_*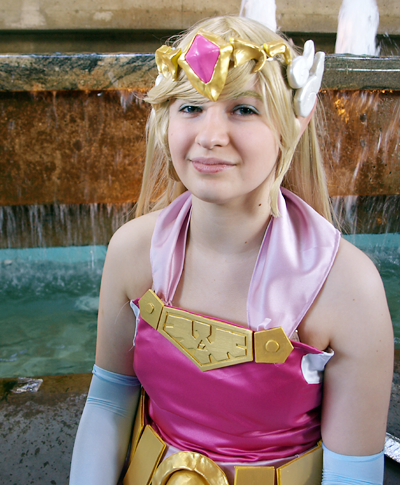 Girl was so pretty <333
I wish I wasn't so shy and asked to take pictures with Zelda cosplayers. ;;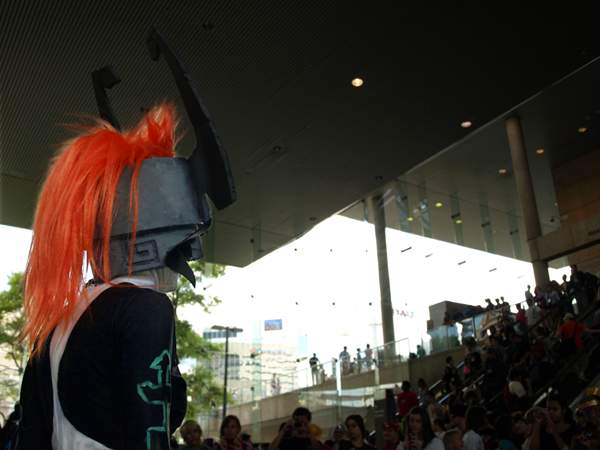 This Midna was sooo cute <333
Then there was an Avatar shoot- I didn't take part but I took pictures~
There was a BOULDER there *_* He was SOOOOO funny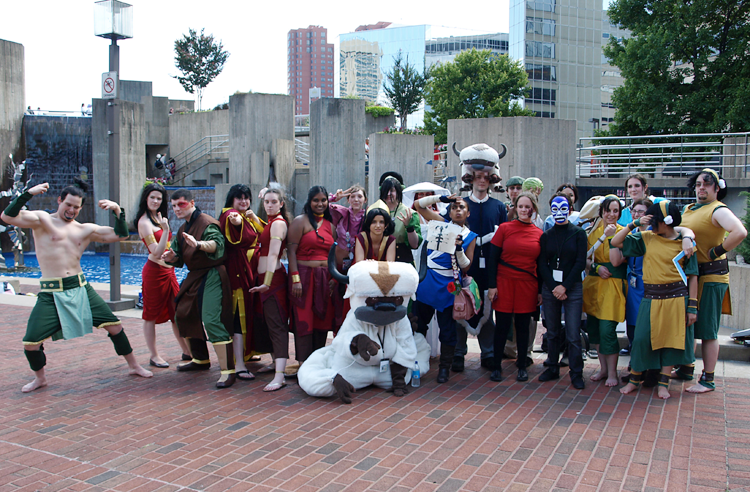 The Boulder was off to the side... flexing.
And then I stole him for an epic picture~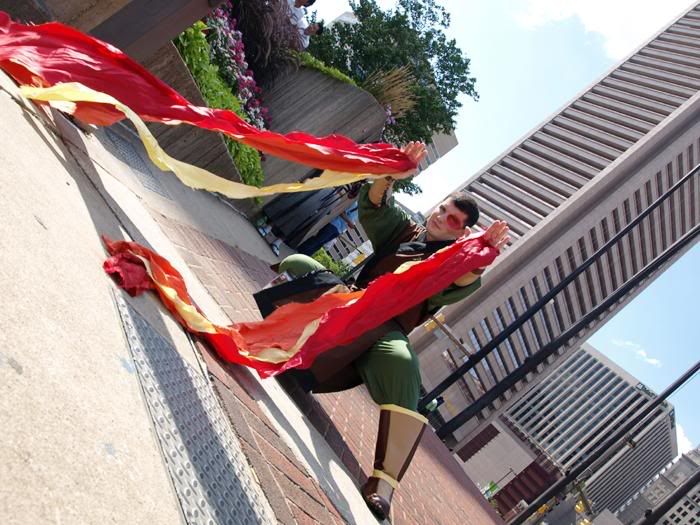 And this Zuko had cool flame like fabric *_*
And of course the CABBAGE MAN!
I think it was Friday.... but I did a mini Ema shoot with Anna : D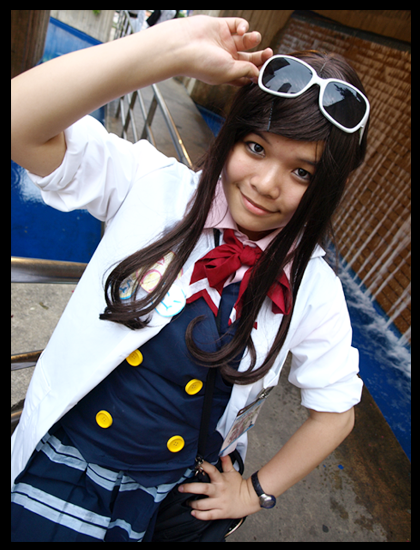 This is now officially the picture with a million tags (facebook joke)
Examining the Evidence! She has funnier pictures. I should put them up somewhere.
So I was off to take pictures of the Avatar shoot and Anna's all "I WANT TO SIT NEXT TO THE SHINIGAMI!" So she did : D and I took a picture~
....Btw taoofmao
taoofmao
were you at that shoot? I totally didn't see you... ;;
Later on when I came back she was still there, but the shinigami wasn't. Hahahahahha
Oh! And epic Pokemon picture!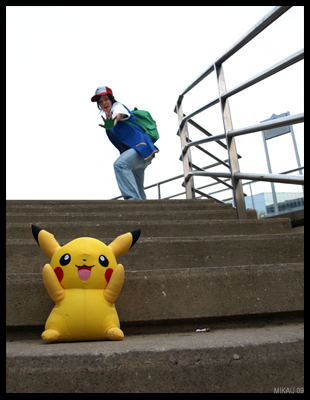 Yey-
And well....
We went back home, ate, watched House, then made our way back for the Rave~
The rave was... VERY loud... *_* Which was cool. Light show wasn't as awesome as in Boston. Music wasn't as awesome as in Boston, BUT they played a heavily remixed version of Smooth Criminal so this thing was automatically amazing.
Sohkum wasn't kidding- this is the first rave were people were actually invasive of our space... I went to hang with Anna a bit, 3 guys asked her to dance. I went off for a while, was touched in places, fled very far in a very short amount of time. People were definitely having sex on top of the amp, it was.....an experience. Ignoring all of that, though, I really enjoyed dancing and the music was great. No offense to anyone I was with but it's honestly loads less awkward dancing with you all. I'd rather be on my own where if I look like an idiot my friends aren't there to see me xD That and I can move around and take breaks on my own time which was way easier than trying to scream over the bass to translate what I want to do.
We somehow lasted throughout the ENTIRE rave. ee; First time I've ever seen a rave end at a con. That was also an experience...
So- the end!
SUNDAY
I left my camera at home. ee;
-Woke up late, wasn't able to do a photoshoot with Becky... ;;
-Didn't bring my camera
-Avatar shoot I was so looking forward to was canceled. ;;
-Wasn't able to check out the dealers room and artist alley at all.... that's got to be my only complaint about Otakon, things ended VERY early (is it just me?)
-Forgot Anna's tassles...
But hey look I found pictures!
But I'm happy anyway because Aang's ugly uniform didn't look as ugly as I thought it would.
Oh btw: This Katara was the prettiest Katara *_*
Anna looked amazing as Toph~ But I want to fix her crown.
And then there was the MJ meetup which was a complete and total success.... *_*
Video is pending- but here have a picture of us instead-
So on the way back-....
......
....I don't feel like talking about it. Lets just say we took a Chinese bus and leave it there.
However we did take some silly pictures!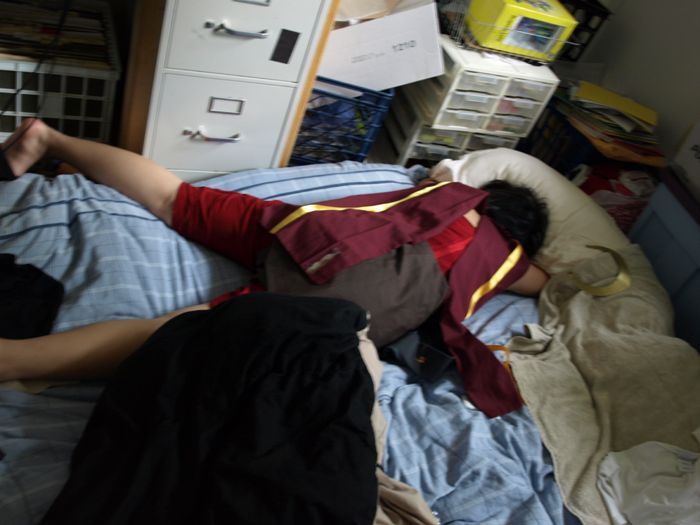 .....Oh yeah and Anna crashed before we went for the bus- anyway!
Have a pocket sized Anna! <3
For anyone who wants my full gallery is here
http://www.flickr.com/photos/40692046@N07/